Vogue, 1994 by Herb Ritts.
Interiors, Woody Allen (1978)
Osho Divine Healing Exercises
Osho was an Indian mystic, guru and spiritual teacher. Here is his practice for The Five Healing Sounds.
1) Sing each sound with one breath, one by one, three times
2) Sing all the sounds consecutively swinging the arms round with one breath, three times.
Kim Basinger as Elizabeth McGraw in the film, Nine and a Half Weeks.
Riddles of the Sphinx (1977)
Directed by Laura Mulvey.
Maija Isola - Finnish designer, Visual Artist
The Entrance, Grim Reaper video directed by Maximila Luckacs (2007).
Riitta Ikonen and Karoline Hjorth's photography
Heinrich Kühn pictorial photography (1866-1944)
Clyde
hats and accessories
Loïe Fuller
, 1862-1928, pioneer of modern dance & theatrical lighting
Sofie Olejnik photography.
Our Legacy s/s 13 lookbook.
Book Stand - an online bookstore full of eyecandy.

I've been obsessing over L.A. based,
Book Stand
selection and website design and also their clever interview's with emerging artists.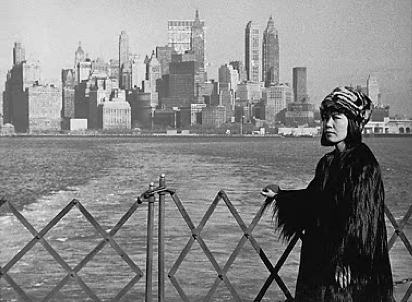 Yayoi Kusama
amber's new clothes |magazine: Nylon, august 2000| via

trankillement.
Steve Mono bags
here
.
Vladimir Nabokov butterflies
here
Get real at

T

urned Ou

t.



Tocca's fall-winter 2011/12 princess coats.
Author Joan Didion's style.
Sofia Coppola's and Thomas Mars wedding. (via
tumblr
)
Georgia O'Keeffe Ghost Ranch studio
Delia Derbyshire (5 May 1937 – 3 July 2001): English musician and composer of electronic music and musique concrète. Better known for composing "Dr. Who" main theme.
Louise Bourgeois fabric works
here
UZI NYC t-shirts at Parc
Tilda Swinton via
La Garçonne
1990s Jil Sander campaigns at
The Style Registry